Gift Certificate
Walk and Talk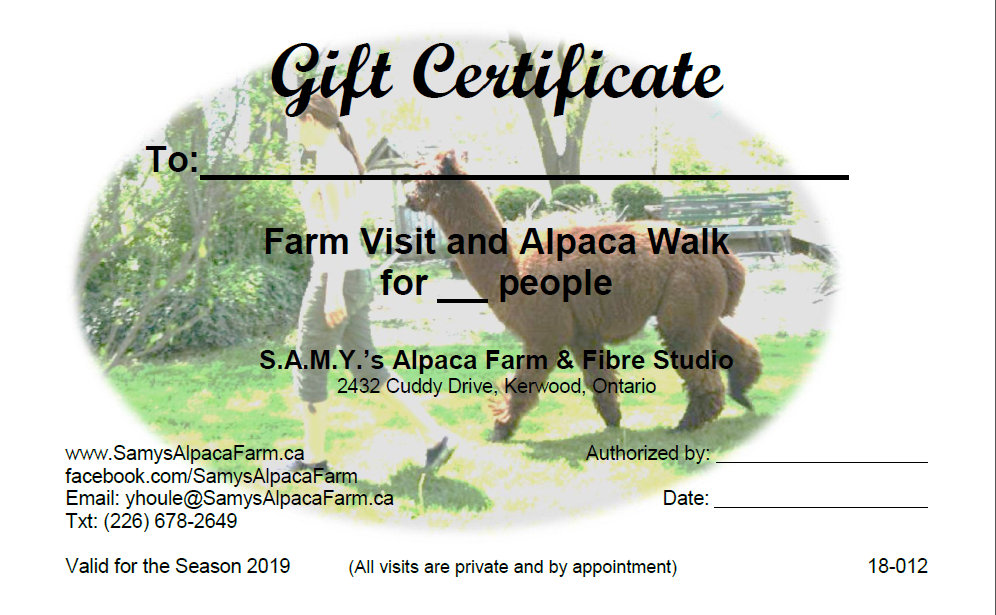 Walk and Talk
*** all visits are private and by appointment ***

We visit the alpacas in the pasture, hand feed them, get acquainted and talk about alpacas. Then we take some of them on a leash for a walk down the country lane. All visits are about 1 to 1 1/2 hours long.
Wet Felting Workshop
We create "dryer balls" or "cat-toys" using warm soapy water and cold water to felt the alpaca fibre. The balls are yours to take home!
Needle Felting Workshop
We create a picture using sharp needles to felt alpaca and sheep fibre onto a small canvas. The picture is yours to take home!
Alpaca Training Session
We train our alpacas to trust us and walk on a leash long before they can join us on a walk. The training session is a great way to connect with an alpaca and get more hands-on experience. You step into the training pen with us and work with an alpaca yourself.
Pricing (2019)
Walk and Talk – $ 20.00 per person, $40.00 minimum per visit
Wet Felting and Needle Felting – $ 15.00+HST per person
($10.00 per person + $5.00 material)
Alpaca Training Session – $10.00+HST per person
Needle Felting
per person (15)
Wet Felting
per person (15)
Training Session
per person (10)